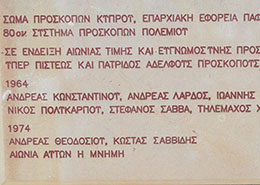 The institution of Boy-scouts in Polemi was established by a luminous and progressive personality; priest Eythimios from Mount Sina of Egypt.
The kernel of boy-scouts in Polemi was the students of its Gymnasium. During the 1960's and 1970's the majority of young people were boy scouts. There was a Cubs department since 1961, which shows the interest of children of every age.
The Polemi boy-scouts team was named "80th Paphos Body", and it was the first one in Cyprus.
The training of boy-scouts used to take place in the community hall. Today it is used for conference purposes.
The training included camping in the Elia forest, in the Turkish village of Argaka and in Agia Marina. The boy scouts were in charge of finding a place, setting the tents, raising the flag, preparing lunch and setting the table. According to old boy-scouts, tracing and bridge constructing with ropes were some of the favorite activities during boy-scouts camping. What is more, notation, games of message exchange through certain flag movements.
All 80th Body boy scouts took part in all kinds of festivities-national, cultural-in Polemi and in other villages is Paphos. Mr. Andreas Onisiforou Polemitis mentions that "the 80th boy-scout body was invited to all festivities in Paphos". They were undoubtedly the chosen ones. What is rmore, it contributed to the creation of boy-scout bodies even in Nicosia.
During the tragic events of 1964, the bombing of Tylliria to be more specific, seven of the nine heroes were members of the 80th boy-scout body. The founder of the boy-scout body, priest Eythimios, deeply distressed requested his transfer to the leper hospital in Larnaka.