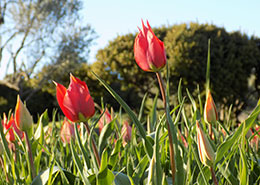 This large flowered wild tulip grows in profusion near the village of Polemi in the Paphos District of Cyprus. Years ago they formed a blaze of colour in early April surving in vineyards from Stroumbi to Polemi and beyond but increased agricultural use has reduced its habitat.
Up until two or three years ago the herbicides sprayed in the vineyards controlled just plant growth above ground level and so the bulbs of the tulip survived. The use of stronger Systemic-type herbicides completely kills any plants the sprays make contact with and this began to have a disastrous effect on the bulbs.
The Tulip Club of Polemi was formed the year 2002 in order to protect the tulips. It ai8ms to make farmers more sensitive towards conservation and advises them to spray the vineyards well before the tulip leaves appear, The Tulip Club also hires a large field in which the protected tulips grow to safeguard them for the future.
The bulbs are ste about 60cm. Deep and are around 3cm. in diameter with a tough fibrous outer casing. In early March the first leaf and stem appear above ground. The single stem and leaves grow quickly and the flower bud finally bursts open ten to fourteen days after reaching full height.
The numerous long, scarlet petals each have a dark blotch at the base edged in yellow. This has given the flower the nickname 'Eye of the Sun'. The intense colours are as strong inside the flower head as outside.